On a gloomy Saturday morning, we decided to try a cafe near in our neighbourhood Pyrmont. Even on a gloomy day, this part of town is serenely beautiful... let me show you ==>
This is the spot where Cafe Morso is... a quiet and beautiful part of the suburb right beside the city of Sydney
You'd walk to this place and expect it to be pricey for the location but it actually is priced normally as like any other cafes in Sydney, so that is a plus!
You can sit outside and have good views of the water or sit inside with the chic yet cosy setting... we chose to sit inside as it was chilly that day...
The breakfast menu had a selection of dishes that is unique from most breakfast places... we had our eye on a couple of them and when we asked the waitress for the recommendations, we confirmed what we wanted!
We sat around at read the magazines that were provided by the cafe... a generous collection available that made waiting for our food a lot more delightful... a good calm atmosphere for reading and relaxing on a lazy weekend :)
Sautéed wild mushrooms with truffled scrambled eggs and Sonoma sourdough
Then came our food and immediately we were excited as it looked brilliant...
I was quick to snatch the sauteed wild mushrooms with truffled scrambled eggs... amazing and huge serving! I am a huge fan of truffle flavoured anything... like who wouldn't be?! The Sonoma sourdough bread is one of the best I have had yet... the combination of the shrooms, eggs and bread was divine...
And not forgetting the smoked pork and gruyere risotto with poached egg and hollandaise sauce... I don't remember ever having risotto for breakfast but it felt right! The food was served with Himalayan pink salt, which we love for its acclaimed goodness... Just as we were devouring our food, Daz kept saying let's get another dish because this is so good...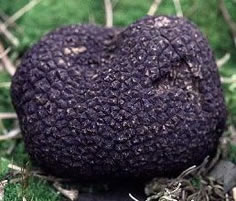 Black Perigord Truffle
Interesting Facts about Truffle
A type of subterranean mushroom
Called the "diamond of the kitchen"
Sold at about 1,000 Euros per kg in a farmer's market and about 4,000 Euros in the retail market
Truffle oil is mostly not made of real truffle but of synthetic flavours
The reason why it is so expensive is because it is not able to be cultivated by man. "The most learned men have sought to ascertain the secret, and fancied they discovered the seed. Their promises, however, were vain, and no planting was ever followed by a harvest" Jean-Anthelme Brillat-Savarin (1825).
Ratings
Food: Beautiful and unique selection of breakfast items. Good coffee too!
Ambience: Cosy, relaxing and good water views
Value: Truffle flavoured eggs and Sonoma sourdough for $16.50... bargain! Not forgetting great location...
Nutritional value: Sonoma sourdough is made of organic flour, eggs and meat are fresh, himalayan pink salt is thought to be beneficial for health
Overall: DAZZLING & DEELICIOUS!